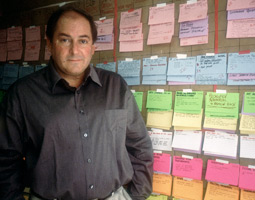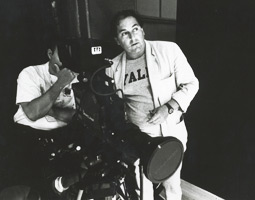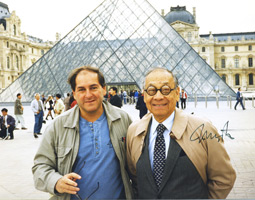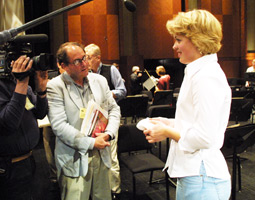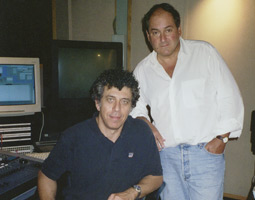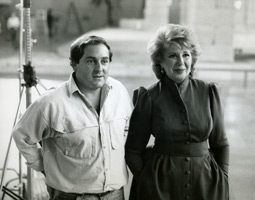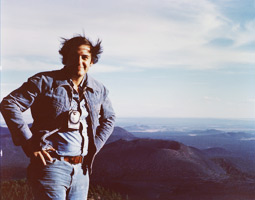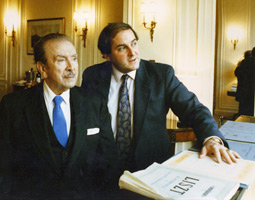 Peter Rosen has produced and directed over 100 full-length films and television programs which have been distributed world-wide and have won awards at all the major film festivals. He has worked directly with some of the most important figures in the arts such as Leonard Bernstein, Yo-Yo Ma, Beverly Sills, Sherrill Milnes, Stephen Sondheim, Alexander Godunov, Midori, Martha Graham, Placido Domingo, Van Cliburn, Claudio Arrau, Byron Janis, I. M. Pei, and Garrison Keillor.
He won the prestigious Directors Guild of America Award in 1990 for his production "Here to Make Music: The Eighth Van Cliburn International Piano Competition." The show also won a prime-time Emmy Award in 1990, and was called "enriching and inspiring" by the New York Daily News. He was again nominated for the DGA Award in 1998 for his film, "First Person Singular: I. M. Pei". "Playing on the Edge: The Eleventh Van Cliburn International Piano Competition", with KERA/PBS, sponsored by ExxonMobil. won the prestigious Peabody Award in 2001.
Recent national prime-time broadcasts from 2005-2010 of Peter Rosen films include: "A Surprise in Texas", on the 13th Van Cliburn International Piano Competition, "The Byron Janis Story", on the pianist"s battle against crippling arthritis, "The Man on the Radio in the Red Shoes", on Garrison Keillor for the American Masters series, "Shadows in Paradise", Europe"s musical exiles who fled Hitler for Southern California, "In the Key of G: The Gilmore International Keyboard Festival" for PBS, "Master of the House" is a film broadcast on PBS as part of the Metropolitan Opera's Tribute to Joseph Volpe, "A Workshop for Peace" is an hour long documentary commissioned by the United Nations on its 60th Anniversary, "Great Conversations in Music" commissioned by the Library of Congress, "Who Gets to Call it Art?" is a feature length documentary now in theatres and on the Sundance Channel on curator Henry Geldzahler, and a six part series "Concerto", aired on PBS hosted by conductor James Conlon.
In the 2003-2004 television season, Peter Rosen produced and directed the feature-length documentary "Khachaturian" on the Russian/Armenian composer on the occasion of the 100th anniversary of his birth. Shown in theatres and on television world-wide, this film won the Best Documentary Award at the Hollywood Film Festival. "The Hollywood Bowl: Music Under the Stars" was a co-production with WDR German Television for KCET/PBS. "A Thousand Years of Music and Spirit", taped in Krakow aired on PBS through WTTW. A documentary on American composer Leroy Anderson, "Once Upon A Sleigh Ride", aired through PBS Plus.
Highlights of previous television seasons: "Enrico Caruso: Voice of the Century", and "The Museum on the Mountain," on I. M. Pei's new Miho Museum in Kyoto. This program won the Gold Medal at the 1998 New York Film and Television Festival. "Midori Live at Carnegie Hall" for Sony Music and A&E, "If I Were A Rich Man," a portrait of Jan Peerce, and "Playing for Peace," a 60 minute documentary about the Middle East Peace aired nationally on PBS. Peter Rosen's earlier productions include "Carnegie Hall at 100: A Place of Dreams," which aired on PBS and was called "the perfect valentine" by The New York Times, and "Omnibus," hosted by Beverly Sills for ABC in 1986. Before that he produced and directed "Papazian Live" for A&E from Carnegie Hall, "Van Cliburn, Concert Pianist" on A&E's Biography series, and "Encore!" another 6-part music series on PBS. Also, "The Golden Age of the Piano," which won the Emmy for Best Cultural Program, made for Philips Classics.
Additional programs in the performing arts include "A Musical Offering from the Vatican", for PBS, "Dewar's Profiles Performing Arts Awards" which was televised on Bravo, the complete five-part series on the pianist Claudio Arrau which was broadcast on PBS including "Arrau & Muti & Beethoven," which USA Today called "a Public Television classic", "Toscanini: The Maestro," a "Great Performances" presentation in 1988, "Rubinstein Remembered," a 100th birthday celebration of the life of the pianist Arthur Rubinstein hosted by his son John Rubinstein and shot in Poland for "American Masters," which The New York Times called "the kind of program that makes you feel good about television", a portrait of ballet star Alexander Godunov, "Godunov: The World to Dance In" (PBS 1985, Metromedia 1986), which the Daily News called "a stunning, compelling docu-drama", "Leonard Bernstein Reflections" for the BBC which recently won the 2010 Gramophone Award for best DVD release.
From 1983–85, Peter Rosen produced many of the arts stories for the expanded "MacNeil/Lehrer Newshour." Three of these stories were nominated for the national Emmy in the News and Documentary. Peter Rosen has also produced and directed three children's programs for CBS. "A Little Like Magic" (1985) was about a group of handicapped children who make it to Broadway performing in their own hit musical. Hosted by Ann-Margret, this show won a local NYC Emmy. In 1986, Peter Rosen produced and directed "America Is" for CBS on the 100th anniversary of the Statue of Liberty. This program also won the local Emmy for Best Children's Program. In 1988, he produced and directed "Starlight, Starbright," a program based on the Starlight Foundation which grants wishes to terminally or chronically ill children, hosted by Emma Samms. His documentary on learning disabilities, "How Difficult Can This Be?" has been one of the best-sellers at PBS Video since 1989.
Education: B. Architecture, Cornell University. BFA, MFA, Yale University. Fellow, Trumbull College, Yale University. Instructor, Department of Art, Yale University.
Board of Directors:
International Music Center, Vienna
Famous People Players, Toronto
Chairman of American Board